How much does it cost?
Our maintenance services cost the same as they do at the dealership, paired with a $20 dispatch fee to account for our travel time. However, we are currently waiving this fee!
How do I pay?
Your bill will be reviewed by the technician after the work is performed. Then, it will be sent digitally for remote payment. Cash and check will not be accepted.
Do you service all vehicles?
The Susquehanna Mobile Service team is currently performing maintenance services only on the following makes: Ford, Chrysler, Dodge, Jeep, and Ram. Please check back later, as we do plan to expand our services to all makes in the future.
Do I need an appointment?
All Mobile Service offerings require an appointment for retail customers. Fleets and businesses do have additional options to accommodate their business schedule.
How do I schedule a Mobile Service appointment?
Schedule the same way you always have – via a phone call, email, or submit an inquiry online.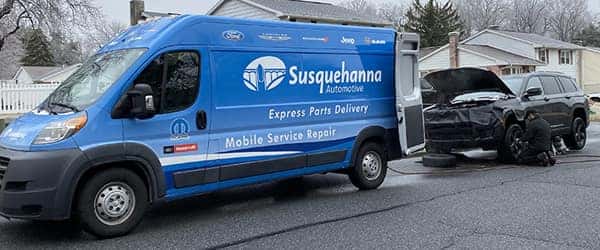 Who will be servicing my vehicle?
Susquehanna Mobile Service has a dedicated team, all of which are factory-trained technicians. They are dedicated to only you during your appointment time, and understand what it takes to provide you with world-class vehicle service at your doorstep.